Promotion of nuclear therapy encouraged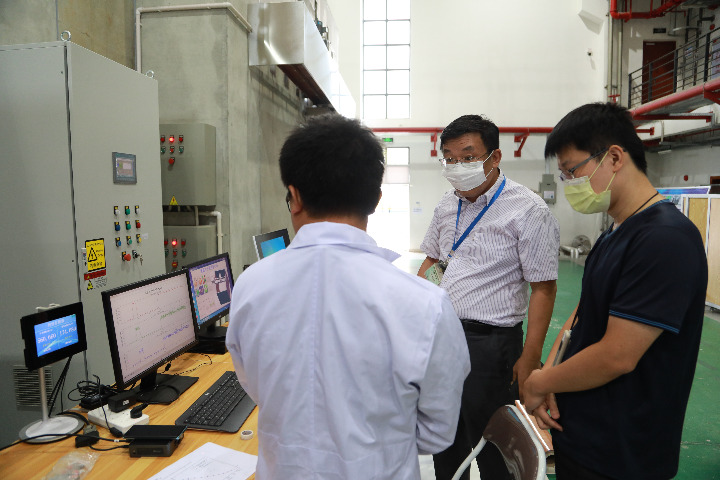 NPC deputy says treatments can target cancers better, with fewer side effects
Nuclear medicine has great potential in treating cancer and needs to be further promoted, a senior nuclear industry official said.
Dong Baotong, vice chairman of China's Atomic Energy Authority and also a deputy to the 13th National People's Congress, said nuclear physics and technologies played an important role in medical schools and hospitals. Compared to commonly used medical approaches, interventional nuclear treatments such as brachytherapy and radiation therapy target tumor cells better, have fewer side effects and greater efficacy, and can work faster.
"For example, a recent cutting-edge therapy – boron neutron capture therapy – is able to treat cancers that are difficult to treat with traditional methods," Dong said, explaining that the therapy can irradiate larger volumes of organs and tissues and precisely suppress isolated cancers. tumor cells.
"It's like a combat drone in 'targeted killing' tasks because it can destroy cancer cells without causing massive damage to normal cells and the patient's immunity."
Huo Li, head of nuclear medicine department at Peking Union Medical College Hospital, said boron neutron capture therapy has proven to be a promising treatment for several types of malignancies, but Chinese patients now have difficulties in accessing it.
"There are several reasons: there is no domestic producer of the tumor-locating drug administered to patients; the neutron generators were too large to be used in hospitals; and regulatory issues regarding the therapy are still ongoing. discussion," she said.
Dong said the government is committed to promoting nuclear medicine and started by issuing a long-term development plan for the radionuclide industry in June.
The plan was jointly developed by Dong's agency and seven other central departments, including the ministries of science and technology, public security and transportation.
"The plan stipulates that our country should establish a stable and independent supply chain of radionuclide products for medical services," Dong said.
"It also calls for researchers to focus on key technologies."
He said that the construction of one to two reactors to produce radionuclides is included in the plan.
Speaking about China's nuclear power technology, Dong said the country leads the world in researching and developing fourth-generation reactors and nuclear fusion technologies.
At the end of December, the world's first industrial-scale demonstration plant of a gas-cooled high-temperature reactor with a pebble-bed module, the No. 1 reactor of the Shidaowan nuclear power plant in Shandong province, began to be connected to the network and put into operation.
With the reactor in operation, China is now the world leader in high-temperature gas-cooled reactor technology, Dong said, which will improve the competitiveness of the country's nuclear industry in the international market.