Skeldon hospital services are expected to return to work this week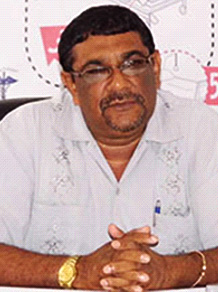 Several departments at Skeldon Public Hospital in Region Six are expected to resume operations as the facility is expected to be placed on the Guyana Power and Light (GPL) grid this week.
The hospital's non-functional services were highlighted earlier this month during the Region Six Regional Democratic Council's statutory meeting in November after residents of Upper Corentyne complained to Regional President David Armogan.
Armogan had told council he had received reports from residents that x-ray, ultrasound and physiotherapy services were not functioning.
In response, Regional Health Services Director for Region Six, Jevaughn Stephens, explained that "we had to cut some services because the building was once powered by GuySuCo and it is no longer powered by GuySuCo… If we connect the equipment in the building right now, we are at serious risk.
Stephens had claimed that efforts were being made to put the building on the LPG grid "and that's what takes so long."
Armogan told reporters yesterday that he has since intervened in the situation and asked for help from GPL officials to speed up the process.
According to Armogan, he was told that the hospital should be placed on the LPG network by Wednesday. "When you applied here it had to be sent to Georgetown for evaluation. They had to get a transformer and a lot more. Until the issue came up at [statutory], then I started digging because it doesn't look like anyone was following him, "he said.
At the meeting, Stephens told the board that he had made several calls to GPL for help, but to no avail.
"They were to follow up on the request, only when it was raised to statutory level, then GPL started to consider it," Armogan stressed yesterday.
Stabroek News has learned that the transformer and final preparations are underway for connection to the grid.
In the meantime, the statutory meeting had also discussed two health centers which have been built but which have not yet started to operate.
The situation was highlighted by Regional Vice President Denis Deroop, who stressed that it was unacceptable and that residents urgently need services.
A $ 20 million contract for the health center located at village number 76, Corentyne was awarded to Memorex in 2017, while the $ 16 million contract for the health center located at Plegt Anker village, East Bank Berbice was awarded in 2016 to Dennis Tahal.
The two health centers, which never worked, are being repaired, Stephens told city council: "The plumbing and electrical work are not finished and that is why we also have not. occupied the buildings, "he said. "In both areas, we await the completion of this work," he added.
Armogan noted yesterday that the plumbing and electrical work was not included in the original contracts. "What they did was a bare building that was very short-sighted, and even though two years have passed, they did not budget for plumbing and electricity in the last budget. Now they are doing it, "he noted.
It is not known when the health centers will start operating as regional health officials have been very discreet on the issue. 7