Surplus Hospital Equipment Auctions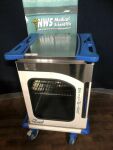 PEDIGO Rev-o-lu-tion REVO Pharmacy/Med Trolley
Batch #70
HELP #159587
RCC-256-MS-B Revolution Closed Surgical Case Trolley …moreREVO
Description: Rev-O-Lu-Tion Closed Surgical Case Cart, 29″WX 27-1/2″DX 41-7/8″H Overall Exterior Dimensions, with Biohazard/Clean ID wheel with two locking casters total and bi-directional locking.
New value: $3,509.59 less
Purchase tax and premium
Purchase premium: 18% with 3% discount
Inspection
Inspection is available in person or virtually during the week of February 13, 2022. Please contact Ron de Ru C: 206-423-9009, O: 888-649-6497, E: [email protected]
guarantee
AS IS WHERE IS
terms
No property removed until fully paid. All equipment is sold as is and on site. The information contained in this list is subject to inspection and verification by all parties who rely on it. No responsibility for its accuracy, errors or omissions is assumed by Seller, Seller's Representative, NorthWest Supply or their agents.
All goods are sold 'AS IS', and ALL SALES ARE FINAL. The property is open for thorough public inspection. It is the responsibility of the bidder to determine the condition, age, authenticity, value or any other determining factor. NorthWest Supply may attempt to describe merchandise in advertising, on the Internet, and at auction, but makes no representations. In no event shall NorthWest Supply be liable for making or implying any warranty of merchantability or fitness for a particular purpose. The Bidder will be the sole judge of the value.
Bidders who bid offsite and are not present at the live auction or preview understand and acknowledge that they may not be able to inspect an item as well as if they had it examined in person. It is the responsibility of the bidder to determine the condition, age, authenticity, value or any other determining factor. NorthWest Supply will endeavor to fully describe each item and any relevant information about it.
NorthWest Supply will not be responsible for errors or omissions in description of merchandise, except in the case of material and intentional misrepresentation of the item itself. Bidder agrees that everything is sold as is and that they cannot return any item they purchase.
Bidder agrees that Seller, any representative of Seller, NorthWest Supply or their agents shall not be liable for:
* for any injury or damage, incidental or consequential, associated in any way with the equipment;
* for compliance with regulations on ownership or use of the purchased item in the jurisdiction in which the buyer resides and/or uses the item.
The sale of this item may be subject to regulation by Health Canada, the United States Food and Drug Administration and other national/provincial/territorial/state and local regulatory agencies. If so, do not purchase this item unless you are an authorized buyer. If the item is regulated by Health Canada or the FDA and is to be used for regulated medical services in Canada or the United States, your payment indicates that you are an authorized purchaser and that you will comply. to these regulations. If you have questions about legal obligations regarding the sale of medical devices, you should consult Health Canada, the FDA or the regulatory authorities of the jurisdiction in which the item is to be used.
Pickup/Shipping
Free support is available. Seller can arrange packing and shipping for an additional fee. Please contact to discuss this, Ron, 206-423-9009 or [email protected]